Yeah. Poor blog. Anyway.
Basically it's the same story. I've not done much anything of any worth.
I'm on the sixth series of Doctor Who. I'm still not in love but hey, it's fun. And Rory is probably my favorite New Who character of all time.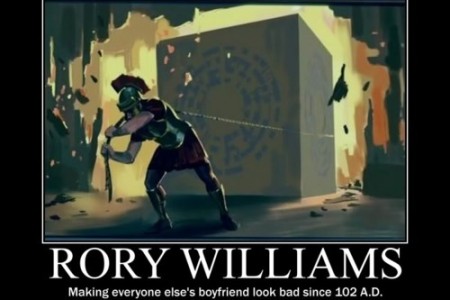 I've also written a lot.
Sparkly Viking Vampire Aliens
is coming along nicely at three finished chapters (nine to go) and the sequel to my sci-fi-lite assassin story
Deep Six
, for now titled
Not A Chance
, is a bit into its third chapter, as well. And I've landed on my NaNo project - a novella about some Reflection characters of mine. I'll probably do some quick charrie sketches sometime. I'm excited about this novella.
And I've been reading some pretty good books and managing to cut down on books that I don't actually want to read that I just got from the library and feel obligated to read. Right now, I just started what looks like a promising vampire/vampire parody thing called
Team Human.
One very short chapter in and I love the heroine. We'll see how long it lasts, buuuuut. Crossed fingers.
I'm quite tired, having had only four and a half hours of sleep last night. I was going to say more but I think that's enough catch-up. I'll try to be back tomorrow with more enthusiasm for life in general. And maybe more to say on
Team Human
.
Later, stupid faces.